Posts for: March, 2020
Now in your adult years, you feel you've functioned pretty well even with a few misaligned teeth. You may also think having them straightened at this point may not be worth the effort and expense.
But there are solid reasons — beyond, of course, the psychological and social benefits gained from a new smile — why straightening teeth even as an adult can be a wise investment. Orthodontics not only enhances your appearance but may also improve your long-term oral health.
Restores proper oral function. Teeth that are aligned properly will tend to function properly. Although you can still chew, speak and smile with teeth that aren't quite aligned properly, over time you'll put more stress on both the teeth and the jaws, which could lead to more wear than what normally occurs with aging. By re-aligning teeth to a more normal position you could be extending the life of your teeth and reducing your risk of other functional problems.
Reduces the risk of periodontal (gum) disease. Some people with misaligned teeth are more susceptible to periodontal disease. Besides difficulties with bacterial plaque removal (a must to avoid gum disease), a person with misaligned teeth can also encounter more defects involving bone and gum tissues like gum recession that can contribute to the progression of gum disease. By straightening teeth (and performing plastic periodontal surgery if needed), we can reduce this risk dramatically — as long as we're performing periodontal treatment for existing gum disease before and during orthodontics.
Facilitates tooth replacement. When we lose a tooth, the mouth's natural mechanism is to move remaining teeth to fill the void left by the lost tooth. This can make it difficult to position a dental implant or similar tooth replacement in a functional and aesthetically appealing way. By applying orthodontics to move drifting teeth back into their proper place, we restore the best condition for achieving success with a tooth replacement.
The best way to know how much you could benefit from orthodontic treatment is to visit us for a full dental evaluation. From there, we can help you decide if treatment for straightening misaligned teeth is right for you.
If you would like more information on orthodontic treatment, please contact us or schedule an appointment for a consultation. You can also learn more about this topic by reading the Dear Doctor magazine article "Why Straighten Teeth."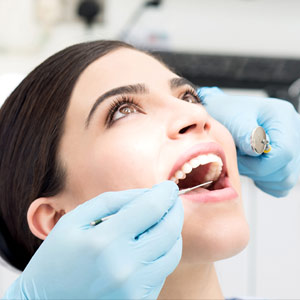 Dental cleanings are an important part of regular dental office visits. Performed by a dental hygienist or dentist, cleanings serve two purposes: to remove bacterial plaque and calculus (hardened deposits of plaque) from tooth surfaces missed during daily brushing and flossing; and to remove stains that can dull your smile.
There are different degrees of cleaning, including root planing that removes plaque and calculus deep below the gum line, usually for patients affected by periodontal (gum) disease. For patients in good oral health, the basic cleaning approach is known as prophylaxis, a term derived from the Greek for guarding or preventing beforehand. The techniques used in a prophylaxis remove both "coronal" (tooth surfaces visible above the gum line) plaque and staining, providing both therapeutic and cosmetic benefits.
A typical prophylaxis includes a procedure known as scaling. Hygienists use special instruments known as scalers to remove plaque and calculus by hand, or an ultrasonic device that vibrates plaque loose and is flushed away with water. The procedure removes that rough coating you often feel as you rub your tongue against your teeth, leaving the tooth surfaces feeling smooth.
Tooth polishing is a subsequent procedure to scaling that also removes plaque and surface stains. Polishing is carried out with a motorized instrument with a rubber cup in which a polishing (or "prophy") paste is contained. The hygienist moves the rapidly rotating cup filled with the paste over the tooth surface to remove plaque and stains. The end result is a highly smooth surface and a much shinier appearance.
People with dental insurance plans are often concerned tooth polishing may be viewed strictly as a cosmetic procedure, and thus not fully qualify for benefits. This should not be the case if coded properly: tooth polishing is part of the overall prophylaxis to remove plaque and staining. The primary purpose is therapeutic and preventive; the cosmetic effect is a by-product. Most dental plans will cover one or two prophylaxes (scaling and tooth polishing) a year, but there are variations so individuals should check their plans.
If you would like more information on dental cleaning, please contact us or schedule an appointment for a consultation. You can also learn more about this topic by reading the Dear Doctor magazine article "Tooth Polishing."